Wooden Toys are always a hot category in the toy industry, and We love the durability and safety of wooden toys too.
What we are going to review today is an enjoyable wooden toy that can truly help your child to learn – wooden activity cube.
If you have no idea what an activity cube is and how it can be educational and helpful for toddlers, you can find this info within the next 5 minutes.
If you are considering buying a wooden activity cube for your kids, it's time to start with recommendations from our best wooden activity cubes.
Table of Content:
2. Pros & Cons of Wooden Activity Cubes
3. Best Wooden Activity Cubes in 2019
4. How to Choose the Best Wooden Activity Cube
1. Get to Know Activity Cubes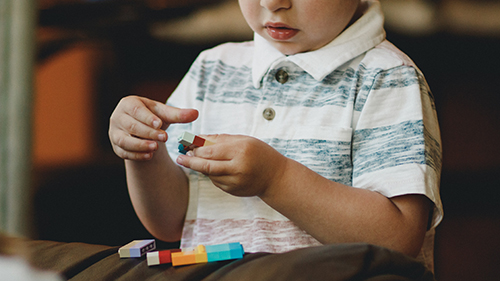 "What is an activity cube? How can kids learn from playing activity cubes?"
That's the most common concern for parents if they have never bought this kind of toy before.
Activity Cube, also called activity box, is a multi-dimensional box that has multiple sides of fun activities.
Usually, an activity cube has 4 – 5 sides. That is why there are many merchants on the market claim they are selling 5 in 1 activity cubes. Each side has a jam-packed activity or an entertaining game that toddlers can fully engage with.
It's known that preschool education is getting more and more popular. That is because teaching toddlers by games or toys at an early stage helps develop their brains faster and better.
At the same time, people are starting to notice the importance of toys' materials.
Many developmental toys made of wood are also becoming more and more competitive on the market because of its safety and sturdiness, such as wooden jigsaw, wooden dollhouse.
Wooden activity cube, the product we are going to introduce to you, is also a great educational toy that helps preschoolers to learn and talk quickly.
Keep reading. Let's see in what aspects the activity cube can benefits your kids.
Or you may want to know what is the best wooden activity box in 2019 and how to choose the right one in part 3.
2. Why Wooden Activity Cubes are Helpful
Wooden toys are popular for reasons.
Wooden Activity Cubes Are Safer
Parents are always driven to protect their children from touching harmful toys. So it becomes a big issue when it comes to choosing suitable toys for toddlers.
Unfortunately, there are tons of toxic toys everywhere in this world. For young children, those toxic toys which are made of low-quality plastic and metal are pretty harmful to them.
The toxic substances and chemicals can be touched by babies, which will lead to severe diseases. It is well known that babies sometimes will put things in their mouths by accident.
That is why an organic, natural, wooden toy will become a lot of parents' best choices.
Besides that, wooden activity cubes enhance security and protection by having sturdy and heavy wood material. This makes the cube more stable and won't crush easily.
Also, wooden cube's edge won't cut your baby like sharp plastic cubes.
Alongside safety issues, helping kids to learn is another advantage of wooden activity box.
Wooden Activity Cubes Make Your Baby Smarter
Improve Babys Brain Power
There are studies shown that children who have received early childhood education are more behaved and have higher IQ scores than their peers.
By engaging with activity games, kids' logicality, counting, shape & color recognition will be practiced often.
Motivating preschoolers to think and learn is beneficial. Starting with some simple and fun games to teach kids is a great step to take.
Tell them study is not a tough and tedious task, and you can boost their self-confidence in this way.
Child Fingers Dexterity and agility
Having babies fingers on those fun cube activities also has benefits.
Playing with activity cubes will help with joint and finger agility by getting engaged in cube games.
Thay is why playing a wooden toy cube is a good way to improve motor skills.
Build Connections
In the process of playing with an activity cube, there are a lot of things that need to be done by cooperating and communicating.
The fact is that most toddlers have never been taught how to communicate logically and clearly in the right way. Playing an activity cube together will enable them to improve their verbal ability.
What's more, having more conversations will build a strong connection between babies and their parents/buddies.
3. Top Wood Activity Cubes Selected by Us
"well, what brand should I choose if I'm buying a wooden activity cube? what is the best wooden activity cube on the market?"
You can see these top wooden activity cubes commercially available currently and easily pick your favorite one for your lovely baby.
1 . TOP BRIGHT Wooden Activity Cube – for 1-Year-Old
Let's start with an elementary one. If you are looking for a simple for toddlers under 1 years old, this TOP BRIGHT wooden activity cube is the best to choose.
This wooden toy box is a 5 in 1 activity cube which has 5 different games:
shape sorting
spinning gears
sliding inserts
a teaching clock
a 3D bead maze
Each game is specially designed for 1-year-old baby to gain their body movement, natural observation, and logical mathematics.
It's not a difficult one that will make babies lose their interest in learning things. On the contrast, these engaging games can teach children how to identify colors and shapes in a pretty fun way.
As a babies' educational toy, the wooden cube is made of solid and natural wood which contains no toxic chemicals. To make sure your baby does not get hurt by edges, this cube has all the edges rounded and polished with non-toxic water-based paint.
The cube's size will not be too large to carry, and it is suitable for home use & travel.
If you find it might be hard to store it, the 3D bead maze top is actually removable. It gives a convenient option for storage.
2. Battat B. Zany Zoo – Wooden Activity Cube – for Kids 1 year +
If the above activity cube is a bit easy for your child, see this B. Zany Zoo wooden activity cube from Battat that is designed for kids 12 months and up.
It also has 5 fun games, they are more intriguing and eye-catching, and they help kids to learn effortlessly at an early age.
As another 5 in 1 activity cube, this one is special for its farm-theme panels. Parents can interact with kids by playing animal names and noises.
With rounded edges, it is safe and secure even for small children. And when it comes to the material, the frame is made of Heirloom-quality wood, having a sturdy quality and solid weight.
Unlike a small cube on the market, this is a really large cube whose height is 18 inches tall. That makes the whole cube more stable and excellent for home use.
3. Wooden Baby Activity Cube – By Play22
Every activity has a theme, and this Play22 wooden activity cube is the one that can improve kids' logical thinking and mathematical ability.
The activity cube is specially designed to improve counting numbers and shapes.
What you will get in this cube is 5 logical games:
Shape Sorter
Abacus Counting Beads
Counting Numbers
Sliding Shapes
Removable Bead Maze
This toy cube measures 8 X 8 X 7 inches, which is a well-made gift for boys and girls.
By practicing these number and shape games with them, you can promote your kids' coordination of hand and eye, help them to foster and solve problems. You can also teach your kids shape, color, number through game playing.
4. EverEarth Wooden Garden Activity Cube
5 sides are not enough?
Here comes an all in one wooden activity cube which keeps babies entertained with 6 sides of fun activity.
You don't need to worry about the safety that it is made of natural hardwood and it uses non-toxic water-based paint as its finish stain.
You can improve your children's communication skills, and shape & number recognition, creativity with below games:
geometric shape sorting
counting beads
sliding animals
spinning gears
wire bead maze
There is not a particular theme for this cube. You can educate kids in many aspects since it contains many teachable components like number counting pieces, colorful shapes, gears, animals.
5 KidKraft Deluxe Wooden Activity Cube
Kidkraft has a good reputation in the toy industry, and their wooden activity cube will not disappoint you too.
This deluxe wooden activity cube is made of light color wood, and it is easy to assemble and build.
There are 21 beads available for your kids to develop their shape, color recognition.
With this cube, learning the alphabet becomes a fun game because there are 26 colorful spinning pieces, one for each letter.
The durable wood enables the cube will not crash and break easily, which helps sharpen your kid's motor skills without any risk.
What a great gift for children, isn't it?
4. Before Buying A Wooden Activity Cube, What Should I Know?
1. Babys' Development Stage
Knowing your baby's development stage is a must-do before getting him/her an activity cube.
Babies' intelligence increases and changes at an astounding pace.
Usually, it is recommended to buy them cubes with games and challenges that are slightly higher than their level, but not too much,
In this way, there is room for them to acquire new knowledge. Meanwhile, it should not be too difficult, or else they will lose curiosity.
2. Childs' Interest
Knowing what your baby's interest is another keypoint.
For example, you can start trying to play games that involve elementary math with your child. But don't force them to play some complicated math games if they are not really into math.
Letting them tell you which type of games are their favorite could be the best advice.
3. Be Careful with Small Pieces
Some wooden activity play cubes contain small pieces. It is not recommended to buy them if you have an infant or a tiny baby at your house.
Babies will be in danger if they swallow these small parts, and the edgy pieces also have more possibility to hurt kids.