Hey, What's up, everybody.
In my previous review articles, we have talked about some wooden kitchen utensils. Such as wooden rolling pins that help you roll out the dough, wooden muddlers that can make your drinks release the aroma.
Today I'm excited to bring one more detailed review of another wooden utensil that I could not live without – Wooden pepper mills.
We've also collected a list of some best wooden salt and pepper mills that are available on the market.
If you want to learn how a small pepper mill can affect the quality of your kitchen life and the taste of the food, then we will share the reasons why you need one.
That being said, we will cover the benefits of using a wooden pepper mill in your house. What's more, we would love t give you some tips on how to choosing a wooden pepper mill. And we will also answer some frequently asked questions about wooden spice mills/grinders.
What Is a Pepper Mill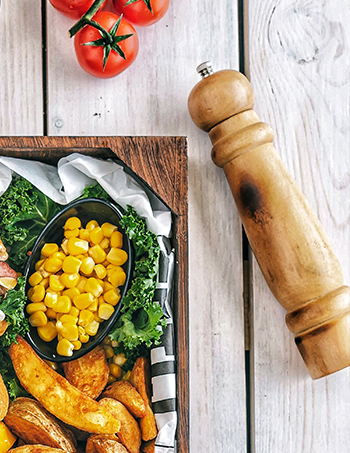 First things first, let's take a general look at it in case some people didn't know what a pepper mill is.
Pepper mill, you can also call it pepper grinder, is a device that people use to grind peppercorns. In this way, we can have the final product – fine pepper powder.
Back in the day, people needed to grind their spices by their bare hands with a pestle, and the first pepper grinder was invented in 1842.
As time goes by, new technology had a huge impacted on pepper grinders as well. Electric pepper mills have made manual operation no longer needed, and electric grinders are much faster and more efficient than grinding peppers with hands.
However, plenty of homemakers and experienced cook still love to grind peppercorns with a manual model pepper mill for its authenticity and performance.
Why is that? Let's continue to read.
Why do we need a pepper mill?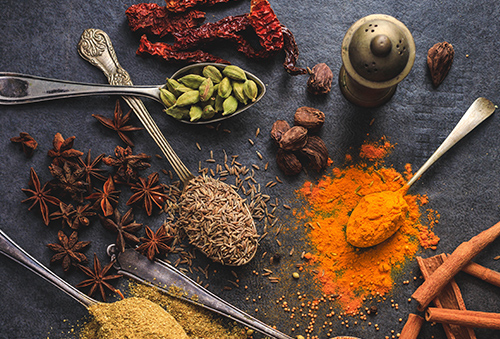 The best way to get peppercorns' aroma and make it more convenient to season our food is by grinding the peppercorns as nice as possible.
Fresh ground pepper has a beautiful aromatic quality that you will never find in the pre-ground.
Grinding peppercorns to powder is a tiring job for people who don't have a suitable tool. A mortar and pestle might do the trick, but it is still too time-costing and hard to grind peppercorns into powders.
Thus, a professional pepper mill is necessary if you want to handle these peppercorns and other spices effectively and comfortably.
Benefits of Wooden Pepper Mill
Are Electric Pepper Mills Better than Wooden Manual Pepper Mills?
That is not 100% correct. Electric pepper mills are not better than manual grinder in some aspects.
People maybe wonder: "Since electric powered pepper mills are more effective and faster, why should I go for a wooden manual model?"
1. Pepper Taste & Grinding Performance
Pepper powders produced by an electric pepper mill might not as good as pepper powders produced by a wooden manual one.
The reason is that the heat generated by friction and shake caused by the grinder machine will affect the quality and taste of the peppercorns.
Usually, the rule does not degrade the pepper by any external factors when grinding the peppercorns.
That explains that people who have high standards for food freshness will go for a manual grinder.
2. Affordable Price
handling a large volume of spices is painful, it's better to rely on an electric spice grinder, but that makes it expensive at the same time.
A commercially used grinder machine should be used for preparing large volumes of spices.
If you are looking for a pepper mill that is used in home kitchens, apparently, a small manual grinder fits you better.
3. Stylish Design
Apart from grinding freshly ground pepper, a manual wooden pepper mill is also an outstanding decor for home.
Unlike a bulky grinder machine, putting a nice wood textured finish mill on the kitchen table will not make it become an eyesore.
A lovely nice wooden mill with a vintage or natural style on the table of the kitchen will look attractive and graceful.
You will never know that some people even treat valuable Wooden pepper mills as antiques.
Best 6 Wooden Pepper Mill Grinder in 2019
1.COLE & MASON Capstan Wood Pepper Mill
Comming with a precision mechanism capstan, the wood pepper mill from COLE & MASON offer a custom adjustable knob on the top.
You can by loosening or tightening the knob on the lid to get fine or coarse freshly ground pepper.
The mill material is mainly solid stained beech wood, which is attractive, especially for those adores the dark red color of woods.
Apart from the outstanding looks, let's take a look at the inside of the mill.
Featuring a solid steel structure, the millworks can endure years of grinding. The millworks are made of hardened carbon steel and use a slice-and-grind mechanism technology to extract the flavor from peppercorns better.
How to refill a manual wooden mill is a concern for many people, and you can unscrew the top knob and lift up to refill this model quickly and nicely.
For homemakers who have different needs, there are 3 size options: 5 inches, 6.5 inches, 12.5 inches
Overall, the wood pepper mill is a really good bet to place on your kitchen table.
2. SZUAH Salt and Pepper Grinders Set – Made of Oak Wood
high strength and high hardness
The Szuah Grinders set contains two grinders: a light color wood salt grinder and dark color a pepper mill that is also made of natural wood.
These two wooden kitchen grinders are well-packaged and come with a cleaning brush for getting spices out of the mill.
Comming with an oak wood body and a ceramic rotor that has high strength and high hardness, these grinders have a long life and do not need much care. Plus, there is a lifetime warranty for a replacement that is offered by the seller.
When it comes to its features, there are loads of to highlight:
To refill this pepper mill, you can screw off the oak wood cap, which is easy. And then refilling the mill with fresh peppercorns should be simple.
The grinder is about 8 inches high and 2.1 inches wide, not very big, but is a great size for a family kitchen pepper mill. Nobody wants to repeat refilling multiple times just because of the mill's capacity.
Also, adjusting coarseness for the pepper grinder is quick by twisting the top nut. Loose or tight, coarse or fine, you decide!
3. XQXQ Oak Wood Salt Grinder and Pepper Mill Set
Another ideal pack of two grinders, Compared to the last bundle, this package is more stylish with a dark rustic style and more wood grain on the surface.
Whether you are buying a salt shaker or a pepper grinder, we don't want any corrosiveness to occur. The natural oak wood salt and pepper grinder resolve the problem, the body is made of eco-friendly oak wood, and the rotor is ceramic.
To identify which one is for salt and which is for pepper, they made every grinder has a letter at the bottom and on the knurled knob. That keeps the style matching but also makes them distinguishable, although they have the same look.
Like many traditional salt and pepper shakes, you need to open the top cover to do the refilling. But With a 3 oz capacity and an 8 inches height, there is no need for refilling every time.
You will also be able to adjust coarseness through grinding, anticlock for coarseness, clockwise for fineness.
The only drawback of this nature wood material might be effected that because of external factors like light, moist, heat.
4. Haomacro Wood Pepper and Salt Grinder Set with Visible Window
What if there is a wood mill that allows you to see your spices. This wood peeper grinder can make it happen!
Haomacro wooden salt grinder and pepper grinder, are made of oak wood and has a transparent visible window. Having this acrylic window, tell your salt mill and pepper mill apart won't be an issue.
Expect that, there is no one single piece of plastic in the grinder. The ceramic grinding mechanism of this grinder, which is also the core, is wear-resistant and non-corrosive.
And of course, you can also choose a suitable coarseness by rotating the stainless steel screw to get the desired output.
Whatever you going to grind, from Himalayan salt to black pepper, you now have a healthy and environmental option to it.
5. Merazi Living Wooden Manual Salt and Pepper Grinder Set
Have you tired of seeing the same style of wooden pepper mill already? Let this straight look wood mill be an addition to your kitchen!
Coming with a solid acacia wood body, the wooden cylinder grinders set from Merazi Living looks classic and has professionalism in quality.
You can achieve different coarseness by adjusting the screw top of the grinder.
As for the shaker's mechanism, it is comprised of ceramic and stainless steel materials, ensuring you will get the most delicate pepper powder to season the food.
To refill the grinder, just remove the metal top and then the wooden cover. The steps are nearly the same to the above grinders,
What needs to be mentioned is that these grinders have an accessorized in a rustic beautiful-looking gift box, that is a great present for a foodie.
6. Zassenhaus Speyer Dark Stained Beech Wood Pepper Mill
Usually I will not recommend a 5.1-Inch pepper grinder mill to you.
However, the look of this Zassenhaus original antique pepper mill really stands out of tons of wooden pepper mills on the market.
With a well-crafted dark beechwood finish and a smooth round shape
Zassenhaus is a reputable brand with a more than 150-year history. As a quality representative, this vintage look pepper mill is made in Germany and works with many spices, including peppercorns, sea salt, and dried herbs.
Another selling point is that German high tech makes the inside ceramic material tougher than carbon steel. And they promised that the grinding mechanism could be used flawlessly for more than 25 years.
What is more charming is that you have specific 6 levels of coarseness to set, which is convenient.
Criterion For a Good Wood Pepper Mill – How to Buy a Wooden Spice Mill in a Correct Way?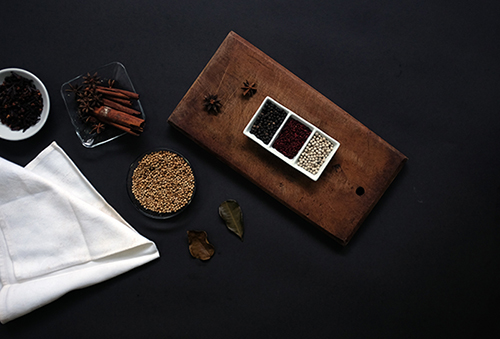 1. Adjustable Coarseness
A good wooden pepper mill should be able to change the coarseness of peppers' granules.
Finely ground pepper and coarsely ground pepper have different tastes, so it is important to be able to control the coarseness of the pepper.
2. Pepper Powder Evenness
Besides coarseness, the functionality of grinding the pepper even is also an essential factor in defining a spice mill grinder is qualified.
Pepper powder that is made by well-made precision mechanism grinders should be even and smooth.
Having even grind is a basic criterion for a good pepper grinder.
2. Comfortable to Grind
The wooden mill should be comfortable to hold and grind. It should not cause hand pain and tingling feeling when you grind the spices.
In order to release crippling hand pain, the wooden finish should be varnished or lacquered, and we don't recommend to buy a carved wooden pepper mill.
3. Storage Volume
If you walk into the online shop, you will see tons of options of wooden grinders on the shelf.
Always pick a mill with a size that meets your needs.
Buying a small one will be awkward if you have a large amount of pepper to grind while wasting money on an extra tall one that you don't really need is not worthy.
4. Easy to Refill
Without a convenient refill system, refilling could be a pain.
Always check how to refill the grinder before buying it.
A wooden mill with a fussy refill system will ruin your grinding process and waste your time, and even it has a beautiful appearance.
5. Does It Work with Other Spices?
By choosing a multifunctional spices mill, except peppercorns, you can grind more spices, including salt, herbs, etc.
And I've seen some wooden grinders with a description saying that "the wooden grinder is just for grinding peppercorns."
Pay attention to the merchant if some particular materials cannot be ground for the mill.
How to Use a Wooden Pepper Mill to Grind Your Spices
Nowadays, pepper mills are basically foolproof, and it will not go wrong even for a noob in grinding spices like me.
The steps are fairly simple, and you will understand how to use your mill in 1 minute.
Prepare fresh peppercorn
Fill the pepper mill with fresh peppercorn
Adjust pepper coarseness to the level you need
Hold the mill tight with one hand and twist the pepper grinder with another hand
Take out your ground pepper powder until the fresh peppercorns are fully grinded
Shake your pepper mill and avoid pepper remain
Clean the pepper mill
You can also see the below video that teaches you how to do it in a quick way (less than a min):
To Maintain Your Wooden Mill, What You Should/Shouldn't Do?
1. Handwash by soft cloth
If your wooden mill gets dirty, wash it by soft cloth.
Typically good wooden mills have a sealed finish, which prevents the wood grinder from penetrating by moist.
You can use a wet cloth to get rid of the spot or stain first and gently dry the wooden mill with a dry cloth after cleaning and let it completely dry out.
2. Do not soak in water
Even some wood grinds have a waterproof sealed coating, and it does not mean that you can soak it in water.
A water-resistant sealer is only designed for water splashes.
3. Clean your mill after use
Do not leave any spices remained in the grinder as the spices will oxidize.
This will affect the smell and the performance of the wooden mill.
To ensure a fresh ground taste pepper quality, clean the mill after use as soon as possible.