No parents want their kids to fall behind their peers, so it's important to let them promote their motor skills and thinking as early as possible.
By having wooden blocks set, you don't have to worry that your child will get bored or be uninterested in learning. In this way, teaching shapes, colors, alphabet, and letters can be easy!
We've shared some developmental toys for babies such as wooden jigsaw and wooden activity cube, and they are both educational and entertaining.
The same goes for blocks set toy. I initially thought kids' blocks are just toys. But the truth is what wooden blocks can do is much more than that.
1. Benefits of Wooden Blocks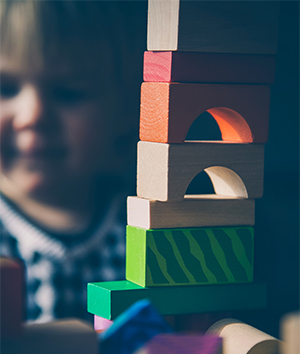 With a wooden block at home, how can it help your child play and learn at the same time>
Let's find out!
1. Wooden Blocks Create a Child Care Environment
In the previous toy buying guides, I have addressed that the most dangerous thing that might hurt kids is the small toy pieces that come with the toy. It's a common cause for kids choking.
What is excellent for wooden blocks is that you won't have this potential hazard. There is not a single wood piece that is small enough to allow toddlers to swallow it.
What I have to mention here is that parents sometimes would buy model kits to entertain and educate kids. The thing is that some model kits have sharp pieces that may cut your kids, and nobody wants that to happen.
If you are worried about it, buying a block set for your child can also achieve the goal. And kids will also get protected by blocks' lacquered wood round edge.
2. Improve Motor Skills
Wooden Blocks are toys that require fine motor skills, teaching your child how to handle the balances of every block will help them improve their motor skills.
Having kids start to exercise their hands and fingers improves the range of motion in their hands.
Even for the adult who wants to be handier, hand mobility can be trained by stacking wooden blocks.
3. Foster Creativity and Imagination
Sometimes teaching kids nothing is also a way of education.
Letting kids build what they want with wooden blocks helps them think creatively, whether it's an animal, a building, or any shapes.
Or you can play a family Jenga block game. By removing blocks one by one, you will see kids try their best to think of a creative way to win.
Sure, there are a lot of things that can be taught with wooden blocks, including:
Hand-eye Coordination
Family Connection
Team Work
Problem-solving
Pressure Releasing
Independence
Self-Esteem
Except for these benefits, there are too many of the advantages of wooden blocks that I have not listed.
If you would like to know more about buying a wooden block, do not close this tab, and let see part 2 together.
2. Top 5 Wooden Blocks For Baby
1. Maxim Deluxe Wooden Engraved Baby Blocks.
This Maxim wooden blocks set is designed for helping kids to get to know Alphabet Letters, number counting, and animals.
You will find this package contains 32 wooden blocks, and you will get a full set of 26 letters plus 6 extra blocks.
In these 32 blocks, 8 of them are counting and math blocks, which is for you to teach basic math to your child.
With an extra-large size of every block, you won't find the block end up in your little baby's mouth.
Plus, the blocks are made of 100% solid gender-neutral wood with a waterproof stain finish, which makes it environmentally friendly and sustainably harvested.
Overall, this wooden block set is a pretty simple wooden block set. If I have a toddler at the house, I will go for it without consideration.
2. Melissa & Doug Solid-Wood Building Blocks
The best way to get your kid off their screens is to find something that is entertaining but screen-free at the same time.
Then I guess this is what you are looking for. A full set of 60 wood pieces from Melissa & Doug can be turned into a castle easily.
Let's take a look at the blocks, and they are in a plain wood color but with reliable quality. The edges are rounded, no safety worries.
With a number of different shapes of these wooden blocks, this block set comes with the ability to inspire kids to build the castle in their dreams.
All the blocks are stored in a fine wooden crate, making it a well-packaged gift for children who is longing for a block set.
The seller also said that "If your child is not inspired, give us a call and we'll make it right," then I guess there is nothing to worry about if you have a responsible partner like this.
3. Right Track Toys – 100 Pieces Wood Building Block Set
A house built with 60 pieces may not satisfy your kids, what about a more majestic wooden castle?
Right Track Toys 100 Pieces Wooden blocks are made for kids who are fascinated with building wooden blocks.
This set includes 100 solid wood blocks and 14 shapes in total, building a large house with blocks is no longer a dream.
However, you should check if your kid can accept the difficulty of making a building with so many blocks.
This a block set typically for kids more than 5 years old, and young toddlers might find it too challengeable.
Although kids don't need to use all the wooden blocks that are provided, I believe nobody wants to pay extra money for things that are unnecessary.
4. Melissa & Doug Wooden Building Blocks Set – in 4 Colors
Adding colors to kids' wooden castle is more fun.
The Melissa & Doug 100 wooden Blocks set is an excellent developmental toy for training shape and color identifying ability.
you will see them these solid wooden blocks in 4 Colors:
red
blue
yellow
green
And they come with 9 Shapes:
cubes
cylinders
triangles
half circles
arches
rectangle (size 1)
rectangle (size 2)
rectangle (size 3)
rectangle (size 4)
Whether children want to build a castle, a car, or a store, the wooden blocks are enough to use, and they can achieve it by using their imagination and creativity.
Like I've mentioned above, you can see every product has their phone number. If you are encounter some questions about their product, give them a call, and they will be responsive directly.
5. Jenga – Classic Wooden Block Game
If we are going to talk about wooden blocks, how can we not talk about Jenga?
As a classic wood block game, Jenga has 54 hardwood blocks and there is an instruction to guide you to stack.
We pull out one block in turns and the one who makes the wooden tower fall loses the game.
For a tutorial for playing Jenga, see this 'How to Play' video:
This is a wooden toy of motor skills, and strategy. Young kids' intelligence can be trained in every move they make.
Actually, Jenga is not only a toy for kids in today's society; it's also an ice breaker activity for grown-ups.
To enjoy a home party night, the Jenga is great and fun for the whole family.
3. How to Choose a Perfect Wooden Block Within Minutes
1. Pick Age-Appropriate Wooden Blocks
Children of different ages have different understanding abilities.
For young toddlers under 3 years old, you can try to buy them simple and easy wooden blocks to build.
This is not only for arousing their learning interests but also for gaining their self-confidence.
As they grow, you can consider higher the level of wooden blocks in shapes and quantities to boost their brains.
In this stage, you can start making a challengeable building with your kids together and inspire them to use their creativity and logical thinking ability.
2. See if the Blocks are Ecological and Toxic-Free
Safety for children is always a priority.
When picking up wooden blocks set, keep in mind that the wood and paint material should be non-toxic.
Cheap PVC materials will have the substance of chemical, and that is not what we want.
Double check if the wood is natural and sustainable. If there is not a clear statement showing the wood is environmental, especially when the price is lower than average, you are probably buying a dangerous wooden block set.
3. Expensive Wooden Blocks? Worth it?
Fancy wooden blocks set could be very expensive.
If you are buying your first wooden blocks set, my opinion is that you don't need to buy a whole full set of deluxe at the very beginning.
It will be so wasteful if you spend money on a wooden toy that will be probably used only several times. Starting with an affordable one is more like a wise move.
Once your kid is old enough and still have strong interest and curiosity about developmental wood, that is when you can pick a high-end wooden block set.