Choosing gifts for children to make them happy could be time-consuming and sometimes costly.
But we have our principle here: give wooden toys with budget-friendly prices and make your child satisfied at the same time! If you want to make this happen too, let's follow us and see our wooden stamp sets picks for toddlers and stamps lovers.
#1. Our Favorite & Top Wooden Stamp Set picks
Melissa & Doug Deluxe Wooden alphabet Stamp Set

This wooden alphabet stamp set comes in natural wood color and includes more than 70 pieces in total. Besides ABC blocks, you will also get punctuation marks and numbers stamps. And the ink has four colors: red, blue, green, and orange.
To play with this stamp set, your child can use the 25-page stamp activity pad which is included in a well-made wooden box package.
This is a perfect ABC stamp toy for kids to start learning the alphabet, words, numbers from scratch.
Lost Ocean 70 Pieces Wooden Rubber Stamps
The Lost Ocean wooden stamps set is the best looking one on the market, and there are 70 dark painted wooden stamps included in a beautiful latch box. The stamps are not made of 100% wood, and these wooden stamps have a rubber part on the bottom so that you can use the stamp more comfortably.
Instead of having a cute look, the wooden stamp set has an elegant appearance. For kids who love pretend play, there is no better choice.
Ning store 70 Pieces Vintage Alphabet Wooden Stamps
An old fashion and vintage style is the reason why this Ning store wooden stamp set is selected by us. You don't see that a lot. Just like other wooden stamp sets, the package includes a well-made solid wood box with a fancy lock, and there are 70 stamps inside the box: 52 alphabet letters (capital and lower), 1- 10 numbers, 8 symbols. Each of them is 3.8cm height and comfy to use.
However, the wooden tamp set does not come with ink, so that you need to buy ink separately.
Melissa & Doug Wooden Vehicles & Farm Animals Stamp Set
I introduced these 2 wooden stamp sets together is because the only difference between them is the shape.
For kids who love cars, ships, planes, this wooden stamp set is a great fit as it has various vehicles in one wooden box. This package contains 8 solid quality vehicles:
firetruck
school bus
police car
dump truck
tractor
train
boat
airplane
Or if your child prefers the animal version, then you can also choose the farm animals stamp set from Melissa & Doug:
This wooden animal set includes 8 pieces:
rooster
cow
horse
sheep
pig
goat
chickens
ducks
With 2 washable ink stamp pads, your child does not need any extra purchase to get started. And these two wooden stamps set are designed for children so you can see the handle is quite big so little stampers won't get dirty when stamping. Just remember to give them a scrapbook to stamp on if you don't want to get your wall & furniture stamped by the naughty ones.
Best Ink for Wooden Stamps
You can not stamp anything without ink. If you find the above wooden stamp sets do not include ink pad or want more ink color, here is our recommendation:
Lsushine Craft Ink Pad Works with Wooden Stamps
You can have 15 colors by purchasing this ink pad set, so kids won't be bored by only one or two colors. The ink pads work well with multiple material surfaces, wood, paper, fabric, etc. And the ink will stay pretty for a long time.
What Can a Wooden Stamp Set Do?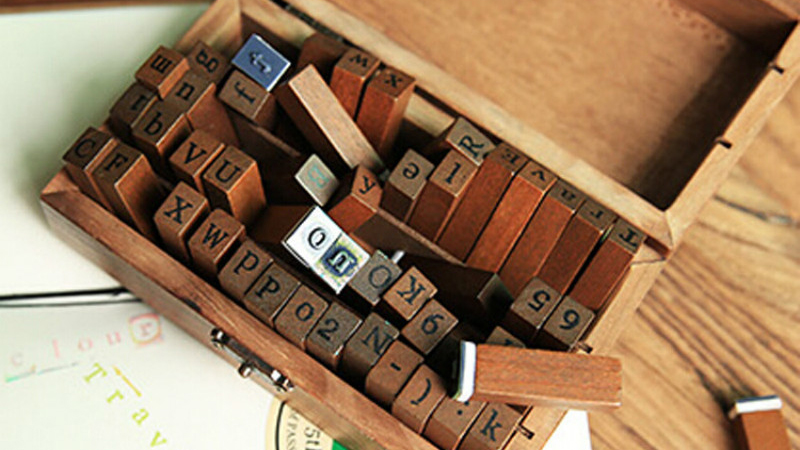 Educate Kids with Alphabet Wooden Stamps
Like most of the STEM toys, playing with wooden stamps helps children's creativity, motor skills, hand-eye coordination, etc. And parents love to teach kids through toy games because it is more fun and effective, such as wooden alphabet blocks and activity cubes. Let children play with letter stamps is also a good way to teach letters to them.
Write a Letter with Wooden Letter Stamps
If you want to send a special letter that looks formal and beautiful, it's time you can use the stamps to write your letter instead of a pen. And the people who receive the letter is definitely to be impressed.
Make Unique Special Gifts with Wooden Stamps
To make a gift that can truly represent you, you can get the gift stamped. With a special symbol or signature created by hand, I believe the gift would be more precious.